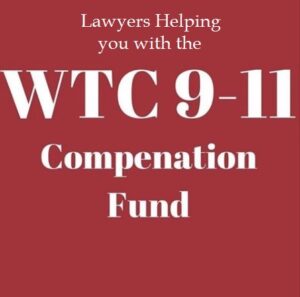 911 Cancer Victim Fund
Do you live in Queens NY but worked around the Word Trade Center, or had lived below Canal Street during 9-11? Have you since been diagnosed with cancer?
You may be eligible to receive compensation from the 911 Victim Compensation Fund.
The September 11th Victim Compensation Fund was created to compensate workers, residents and students who were exposed to 1000's of cancer causing toxins in the air; and as a result have been diagnosed with cancer.
This can be ANY type of over 70 types of cancer that qualify to get the award.
There were over 1 million people that were exposed to the toxic dust and fumes during the 8 month clean-up period after 9/11
As many as 30,000 of these people near the crash site may qualify and don't even know it.
911 compensation fund Queens Lawyers
Our attorneys will help you with the complex and burdensome paperwork of the fund and insure that you get the maximum compensation possible. We also will help you obtain free lifetime medical care.
All of these cancer diagnoses are eligible for the cash award and free lifetime medical care:
Lung Cancer, Prostate Cancer, Breast Cancer, Bladder Cancer, Mesothelioma, Colon and Rectal Cancer, Endometrial Cancer, Kidney Cancer, Leukemia, Liver Cancer, Melanoma, Non-Hodkin's Lymphoma, Pancreatic Cancer, Thyroid Cancer, Ovarian Cancer, Brain Cancer, and over 70 types of cancer that could be linked to the 9/11 crash site.
For more information call – (888) 987-4929 or visit https://911fundlawyers.com/
We also may be able to help you obtain free lifetime medical care.
Slater Slater Schulman LLP
(888) 987-4929
909 Third Avenue, 28th Floor
New York, New York 10022
www.911fundlawyers.com
ATTORNEY ADVERTISING – The information in this advertisement is for general information purposes only. Nothing should be taken as legal advice for any individual case or situation. This information is not intended to create, and receipt or viewing does not constitute, an attorney-client relationship. This advertisement may constitute attorney advertising. Prior results do not guarantee a similar outcome